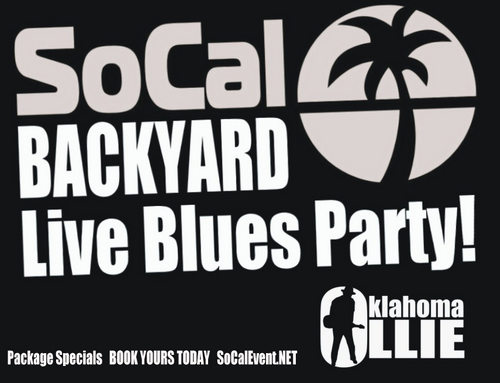 "Thank you for coming out. All our friends and family had a wonderful time. You all were amazing. Thanks again"
A.S. in Wilmington
SoCal Backyard Live Blues Party – TURNKEY PARTY PACKAGES
any occasion: Birthday – Anniversary – Graduation – Special Days
partys are fun, but often a real headache to plan and manage the food & entertainment.
call SOCAL EVENT NETWORK 562-924-6070 and book our turnkey package for your party, without the hassles…in your backyard…or on a 100 foot cruise ship !!
SoCal Backyard Live Blues Party!
-or-
SoCal Rock-n-Blues Cruise Party!
a live rockin' fun party for your family, friends & neighbors
link to pics from one recent party —>
https://www.facebook.com/media/set/?set=a.4818869517899.68668056.1481248367&type=1&l=917a8c14a5
one call service from SoCal Event Network
our turnkey party package includes –>
1) Delicious Taco Bar or Pizza or Sushi Buffet
2) Legendary Blues Guitar Artist Oklahoma Ollie performs 3 hours of rockin' blues classics & originals w/fun 4 piece Live Band – The Blues Stand Band
3) Bottled Water
4) Event Flyer – digital version
5) Facebook Event Page w/ Invites
6) Action photos taken during the event
7) Event Photos posted to Facebook within 48hrs.
8) Live Sound Equipment – Speakers, Mics, Amps
9) Set-up & Clean-up
DELUXE PACKAGE PRICING – THURSDAYS & FRIDAYS – BACKYARD PARTY
50 people…..$ 24.50 per person
100 people…$ 18.50 per person
(Saturday,Sunday, Holiday & Cruise Pricing Available on Specific Date Requests)
PACKAGE OPTIONS
Event Photo Wall & Red Carpet
Guest Gift Bags
Wow Lighting
Stage
Bartender Services
Margarita Mixers
Tables & Chairs
Cool Decorations
Flyer Printing
Limo Service
Veggie Menus
Specialty Menue
Specialty Desserts
Other Venue Rental – Hollywood, DTLA, West LA, South Bay
now booking – call 562-924-6070 and ask for the Live Blues Party Package
SoCal Event Network
9835 Flower Street #5147
Bellflower, CA 90707